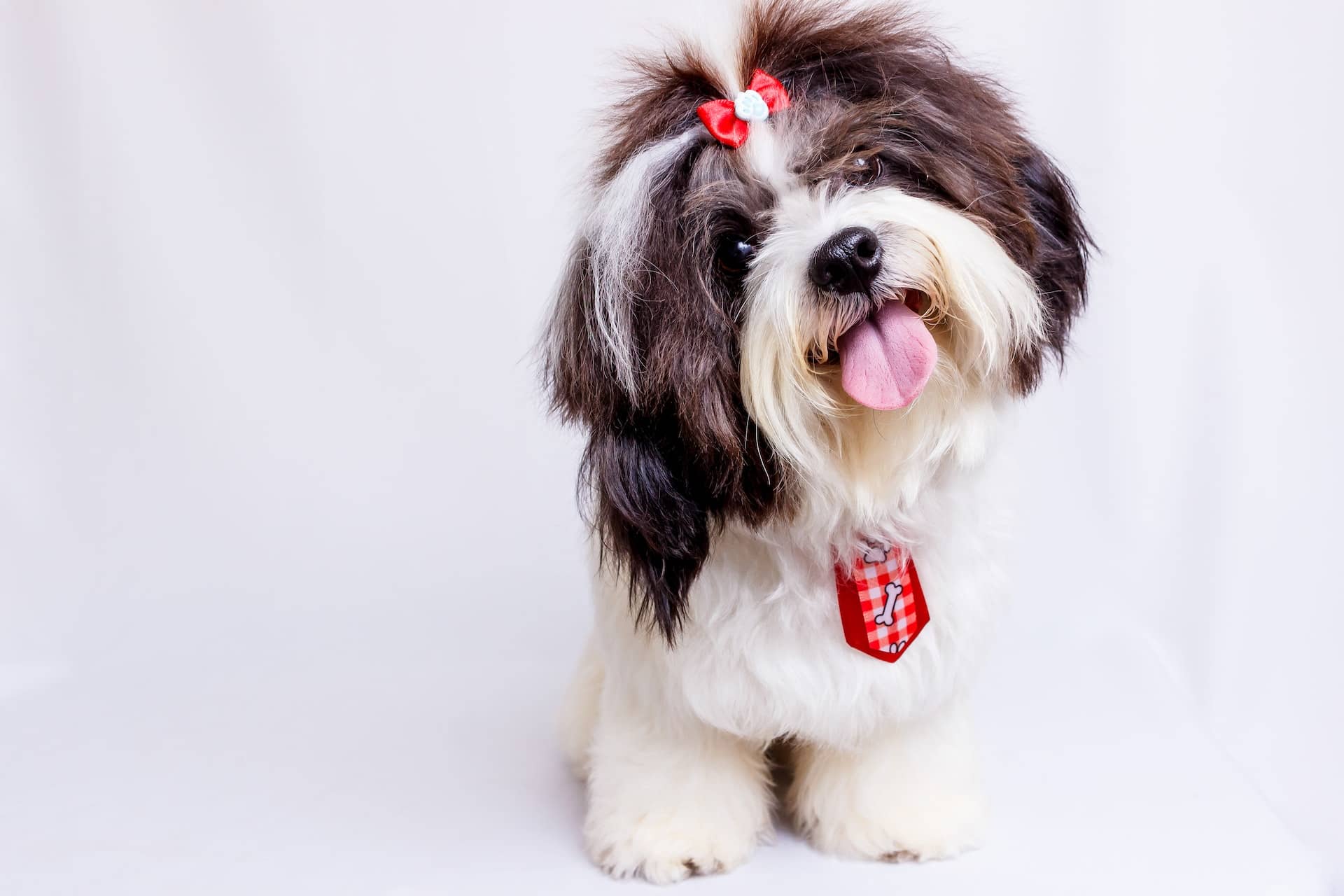 For those who love to keep their dog on their lap all the time, the Shih Tzu is the perfect companion. Because they like to sit on people's laps. The Shih Tzu dog breed is a majestic, ancient breed and lively charmer. Read our Shih Tzus dog breed information to learn more about this majestic breed.
Table of Contents
History of a Shih Tzu
The Shih Tzu is a breed that is over 1,000 years old. Their origin is China. These dogs were very beloved and prized by the Chinese royal family.
So they refrained from selling or trading Shih Tzu for years. They were first imported to England and Norway in the 1930s. The breed spread widely and was imported to the United States after World War II and was recognized in the Best Toy Dog Group by the American Kennel Club in 1969. The Shih Tzu dog breed is the most popular toy dog ​​breed in America as of 2013.
An Ideal Weight and size of Shih Tzus
Shih Tzus have a slight weight difference between males and females, unlike other dogs. This dog breed information is essential for you to properly care for your puppy. Here is a chart showing healthy weight ranges that are appropriate for Shih Tzu puppies.
Shih Tzus Age Approximate Weight and Height
| Dog Age | Weight | Height |
| --- | --- | --- |
| 1 month | 1.25 lbs | N/A |
| 2 month | 2 – 2.5 lbs | 2 – 5 inches |
| 3 month | 4 lbs | 3 – 6 inches |
| 4 month | 6 lbs | 4 – 7 inches |
| 5 month | 8 lbs | 5 – 6 inches |
| 6 month | 10 lbs | 6 – 7 inches |
| 7 month | 12 lbs | 6 – 8 inches |
| 8 month | 12.5 lbs | 7 – 9 inches |
| 9 month | 12.5 lbs | 8 – 10 inches |
| 10 month | 12.5 lbs | 8 – 11 inches |
| 11 month | 12.5 lbs | 10 – 12 inches |
| 12 month | 12.5 lbs | 11 – 12 inches |
Shih Tzus are medium-sized toy breed dogs with a standing height of 13"-15" (33-38 cm). And their overall body length is about 15"-17.5" (38-44 cm). They also have broad and deep chests and compressed faces.
Like other toy dogs, the Shih Tzu adult quickly. It takes only 10-11 months for them to adult or fully grows.
Lifespan of a Shih Tzu
The Shih Tzu is a breed of toy dog known for its long life span, which typically ranges from 10 to 16 years. As a result, this breed is ideal for families who want a lifetime companion and are looking for a loyal, affectionate pet. Additional information about the lifespan of a Shih Tzu and Shih Tzu mixed with Pitbull can be access from our articles.
All the different colors of Shih Tzu
The Shih Tzu is a breed that comes in a variety of markings and colors. Shih Tzu dog breeds are likely to experience color changes as they grow and mature. We will help you understand all about Shih Tzu colors in this article on our Shih Tzus dog breed information. But remember that 'S' stands for standard and 'A' stands for an alternative; This classification is for show ring use.
Shih Tzu Colors variants:
| | |
| --- | --- |
| Black | Red |
| Black and white | Red and white |
| Blue | Silver |
| Blue and white | Black Gold and Silver |
| Brindle | Tan marking |
| Brindle & White | Black gold and white |
| Gold | Black White and Silver |
| Gold and White | Silver Gold and White |
| Lever | White |
| White mark | Black Mask |
Popular Names of Shih Tzu dog breeds
| | | | |
| --- | --- | --- | --- |
| Abby | Cocoa | Kobe | Oliver |
| Ace | Cody | Koda | Ollie |
| Annie | Cookie | Lacey | Oreo |
| Archie | Cooper | Lady | Oreo |
| Baby | Cosmo | Layla | Oscar |
| Bailey | Daisy | Leo | Otis |
| Bailey | Dexter | Lexi | Pebbles |
| Bandit | Duke | Lily | Penny |
| Baxter | Ella | Loki | Pepper |
| Bear | Ellie | Lola | Pepper |
| Beau | Finn | Louie | Phoebe |
| Bella | Fluffy | Lucky | Piper |
| Belle | Gigi | Lucy | Pixie |
| Benji | Ginger | Lulu | Poppy |
| Benny | Gizmo | Luna | Prince |
| Bentley | Gracie | Maggie | Princess |
| Brady | Gus | Marley | Remi |
| Brody | Harley | Max | Riley |
| Bruno | Harley | Maya | Rocco |
| Buddy | Henry | Mia | Rocky |
| Buster | Honey | Miley | Romeo |
| Callie | Izzy | Millie | Roscoe |
| Chance | Jack | Milo | Rosie |
| Charlie | Jackson | Mimi | Roxy |
| Charlie | Jake | Minnie | Ruby |
| Chase | Jasper | Missy | Sadie |
| Chewy | Jax | Mocha | Sammy |
| Chloe | Joey | Molly | Sasha |
| Coco | Khloe | Murphy | Sassy |
| Coco | King | Nala | Scooter |
Shih Tzu Behavior Problems
If you are considering adding a Shih Tzu to your family, it is important for you to know how they behave. We will address potential problems seen in puppies and adults alike. Learn about the most commonly reported behavioral problems in surveys of Shih Tzu owners.
Shih Tzu Behavior Problems:
The Shih Tzu constantly follows people or other pets
Shih Tzu dog breeds have inappropriate urination and defecation
The Shih Tzu is a picky eater
Shih Tzu begs
Shih Tzu dog breeds have separation anxiety
Shih Tzu plays aggression
Shih Tzu digs
Shih Tzus are prone to chewing
The Shih Tzu is prone to growling and screaming
Shih Tzus are prone to excessive barking
As a Shih Tzu pet parent, it is important for you to know about the common behavior problems associated with this breed. Understanding these issues will help you identify them and resolve them quickly and effectively. To learn more about Shih Tzu behavior problems in depth, we have an article dedicated to the topic, so be sure to read that before considering any solutions!
Food and nutrition of Shih Tzu 
To be a proud Shih Tzu owner, you need to know about their diet and nutrition. It is important to know which foods are healthy for them and which foods are toxic to your beloved Shih Tzu. Natural Foods like Eggs, Bananas, Apples, Fish, and Bone broth is a great sources of nutrition. If your dog is like to eat those foods that could help your dog's health a lot. Although all food that can be found in nature is not healthy for dogs, you can check out some healthy natural foods for your dog.
When feeding your dog, size really does matter! Toy, small, medium and large breeds all have different dietary requirements. Most toy and small breeds need to be fed 4-6 times a day while larger breeds might require between 3-4 meals per day. If you're unsure of how much food to give your pup, be sure to check out our article on canine nutrition and meal planning!
Veterinarian-Recommended food for Shih Tzu dogs
To keep your beloved Shih Tzu puppy healthy and fit, it is important to feed them healthy food. You should know which food is best for a Shih Tzu of any age. Here's a list of some of the best Shih Tzu foods that vets love.
⭐⭐⭐⭐⭐ – 4.6/5
Wellness Simple Limited Ingredient Diet Grain Free Dog Food is an ideal meal for your Shih Tzu. This nutrient-rich dish contains 29% protein and a number of beneficial ingredients, such as salmon with omega fatty acids, peas, potatoes and supplements. With this food, you can ensure good coat condition of your pup while preventing allergies and other health issues.
⭐⭐⭐⭐⭐ – 4.7/5
Merrick Lil Plate Grain-Free Real Chicken and Sweet Potato Dry Dog Food is a wonderful option for small-breed dogs such as the Shih Tzu. It boasts 38 percent protein which helps to keep your pup's muscles toned, with no grains; perfect for pups who suffer from allergies or food sensitivities. Plus, it packs in yummy fruits and vegetables such as apples, blueberries, sweet potatoes and alfalfa! These ingredients are designed to improve your Shih Tzu's overall digestive health while also providing prevention against stomach aches.
⭐⭐⭐⭐⭐ – 4.5/5
Hill's Science Diet Adult 7+ Small & Toy Breed Chicken & Vegetable Stew Canned Dog Food is a great option to include in your Shih Tzu's diet. It is specially designed for small breed dogs above the age of 7, and supports their overall health with vitamins, antioxidants, and essential fatty acids. Plus, its delicious flavor will make your pup think you're serving up his favorite meal!
Shih Tzu dog breeds health
Owners of the Shih Tzu, one of America's most beloved dog breeds, enjoy its affectionate, lively and friendly demeanor. But when it comes to buying a pup, prospective owners should be aware of any possible health issues that could arise. Here we provide in-depth information on common Shih Tzu health problems that you should look out for if you decide to bring home this devoted pup.
Common health problems of Shih Tzu
Epiphora
Pigmentary keratitis
Ocular proptosis
Cataract
ear infection
Patellar luxury
Hip dysplasia
Brachycephalic syndrome
shortness of breath
eye problems
dental problems
ear problem
Joint and back problems
Kidney problems
liver problems
skin problems
bad knees
Canine Dental Diseases
Canine ear infections and otitis externa
You should monitor your loved one for signs of Shih Tzu disease. Then, if you experience any of the listed diseases, be sure to consult your veterinarian and use the medications prescribed by him.
Shih Tzu Care and grooming
Toy-breed dogs like the Shih Tzu require a lot of specific care to thrive. Before bringing this toy breed into your home, you should know some basic principles and guidelines for taking care of it. It is very important to know what kind of food, bedding, and decoration arrangements are needed.
List of Shih Tzu Care Tips:
Eat all-natural foods
Feed spring or filtered water
Do regular grooming
Use quality coat products.
Take care of dental hygiene.
Use a harness
Use a collar
Use a leash
Watch the breath.
Adjust for summer care.
Adjust for winter care.
Consult your vet 1 day a week
Solving separation anxiety problems
Teach correct classification
Shih Tzu Haircuts
With its luxuriously long and silky coat, the Shih Tzu is known for its impressive manes. But these beautiful fur coats need regular maintenance in the form of a proper haircut to stay looking their best.
Every Shih Tzu cut should be tailored to their specific coat length and texture and maintain the look that they are most famous for. From Lion Cuts to Teddy Bear Cuts, there are several trendy cuts that you can choose from when grooming your pooch.
Puppy Cut
Top Knot Show Cut
Teddy Bear Cut
Practical Top Knot
Colors of Shih Tzu
The Shih Tzu breed is available in a variety of colors and patterns, including black and white, red and white, grey and white, solid brown, black and tan, silver and white, beige, apricot and gold. Some shih tzus even have coats that are multi-colored. Most often they have coats that consist of one dominant color mixed with elements of another color.
Are you unsure which color Shih Tzu to pick from the myriad of choices? Our other article dives into the colors of the Shih Tzu breed, providing you with a better understanding of the various color options available and helping you to decide on one that best suits your preference.
Shih Tzu Training & Exercise
Shih Tzu is a very friendly and active dog, but a stubborn dog. Shih Tzu training requires long-term dedication and time, which will build a healthy, happy relationship between you and your pet.
Essential Tips for Shih Tzu Training:
House training
Crate training
Socialization
Leash training
Reward-based training
Puppy proofing
puppy bites
Training to walk gracefully
Appropriate behavior training
Using proper training techniques
Shih Tzu Exercise Tips
Did you know that exercising with your Shih Tzu can help strengthen the bond between you both? It is important to understand what type of exercise best suits your dog as every Shih Tzu has different needs. Fortunately, there are plenty of activities to choose from that can be enjoyable for both you and your pup! Regular exercise will not only keep your pup happy, but it will also help maintain a healthy lifestyle for them.
8 Best Ways to Exercise Shih Tzu:
Walk him regularly
Jog regularly
Go hiking with him
Swim regularly
Do yoga
Do circuit training
Learn to play Frisbee
learn to dance
Shih Tzu Training and Exercise Equipment
The Shih Tzu is America's Best Small Dog Breed. They have beautiful looks and adorable personalities. Before you bring a Shih Tzu puppy into your home, gather the essentials for training and exercising this dog breed. In this article, we will suggest you some essential Shih Tzu training and exercise equipment.
Dog Crate
Dog collar
Lesh
Chewing
Toys
Water bowl
Soft bedding
Brush
Puppy pad
Eye Cleansing Wipes
Frequently asked questions about Shih Tzus
What is special about a Shih Tzu?
The Shih Tzu is famous for its playful, lively, friendly, and happy temperament. Most Shih Tzu is very sweet and gentle creatures, they get along well with people of all ages, dogs, and other pets of various breeds.
Is a Shih Tzu a good house dog?
The Shih Tzu was originally bred as a house dog. The Shih Tzu makes an excellent pet for the home. Shih Tzu is the best breed for a mansion or an apartment or a modest home.
Do Shih Tzus bark a lot?
The Shih Tzu is a breed that barks. The Shih Tzu likes to bark while looking at people outside the window, looking at people in the distance while walking, or looking at visitors. When you travel by car with your Shih Tzu, his barking can be a problem that can be easily corrected.
How intelligent is a Shih Tzu dog?
Most people agree that Shih Tzus are an intelligent dog breed. Shih Tzus are known to most dog owners as intelligent dogs. The intelligence of the Shih Tzu varies from individual to individual. But sometimes they can behave stubbornly.
What are the weaknesses of the Shih Tzu?
The Shih Tzu is a very popular breed, but like any breed they can have some weaknesses. Common weaknesses of the Shih Tzu include hip dysplasia, eye conditions such as cataracts, breathing issues, joint issues, thyroid problems, and hormonal imbalances. Careful selection of breeders and regular check-ups are important to keep these potential health problems in check.
What does Shih Tzus love most?
Shih Tzus were bred only to be companions. They are affectionate, happy, outgoing house dogs who love nothing more than to follow their owner around. Emperors of old felt comfortable embracing Shih Tzu. Now the Shih Tzu likes to climb on people's laps on its own.
Are Shih Tzus difficult to potty train?
Most Shih Tzu owners feel that Shih Tzus are difficult to house train. So start house training your puppy as soon as you bring it home. In particular, take them out every two to three hours after eating, sleeping, and after play sessions.
Does Shih Tzus tolerate being alone?
This affectionate toy breed finds it very unbearable to be away from the company of their loved ones. They feel content and happy to sleep and relax around you
Why does Shih Tzus follow you everywhere?
Shih Tzu likes to follow you. Because he trusts and loves you and feels safe around you. Shih Tzu's specialty is that it follows you very closely