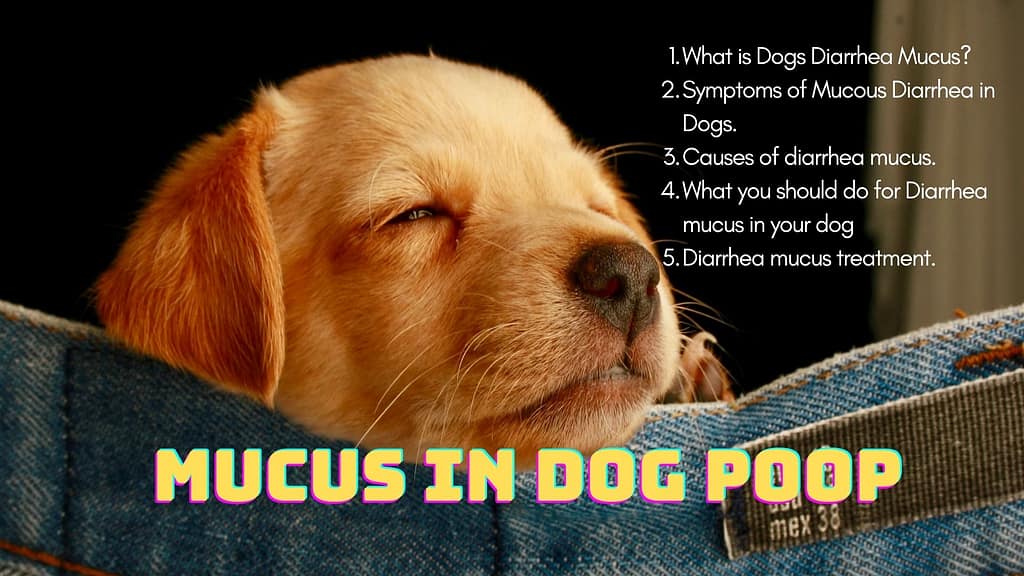 If you notice a jelly-like liquid or mucus on the poo after your dog poops, it is usually a problem with the canine mango. If there is a small amount of Mucus in dog poop, there is no need to worry, this is normal. However, if you see mucus in your dog's stool regularly or a lot of mucus, it needs treatment. So first we should know about dog mucus.
Are you wondering about the causes and symptoms of dog diarrhea? Look no further! Check out our other article to learn more about dog diarrhea, including what might cause it and how you can help your pup if it occurs.
Table of Contents
What is Dog Diarrhea Mucus?
Diarrhea Mucus is a common disease in dogs. The mucus is the mucous lining layer that protects the lining of the large intestine. It is basically a clear, thin sticky fluid that helps lubricate the moving stools in the digestive system. If it is damaged, mucus appears in the stool. If your dog has diarrhea, he will usually have a lot of liquidy, greenish-yellow stools. He might also have blood in his stool.
But there is no reason to worry if Diarrhea Mucus comes out with a small amount of stool, it can be normal. But if it comes out excessively or regularly, it can harm your dog's health. Diarrhea Mucus in dogs is usually caused by diarrhea, colic, parasites, intestinal inflammation, etc.
Is it normal for green mucus to be present in a dog's stool?
While it is possible that this could indicate an underlying health issue or infection, there are many other causes of green mucus in dog poop. These include parasites, changes in the diet, and an unbalanced gut microbiome.
Green mucus in a dog's stool could be a result of inflammation in the gastrointestinal tract, bacteria or parasites. It is important to identify and treat the source of the infection promptly to ensure that your pet remains healthy. If you notice any abnormal changes in your dog's poop, it is best to consult with a veterinarian right away for the best diagnosis and treatment plan.
Is it normal for my dog to vomit and have diarrhea with mucus present?
In some cases, yes. The presence of mucus in dog stool can indicate a digestive issue such as an infection or inflammation of the GI tract. Vomiting and diarrhea often accompany these conditions and should be monitored by a veterinarian if they become severe or last for more than 24 hours.
Symptoms of Mucus in dog poop
Diarrhea in dogs Mucus is usually caused by diarrhea. Mucus symptoms of diarrhea in dogs are:
1. Passage of mucus with stool: A clear, sticky jelly-like substance comes out of the dog's feces. It covers part or all of the dog's stool. Diarrhea in dogs Mucus is usually caused by diarrhea.
2. Passage of green mucus with stool: Diarrhea in dogs can also be colored mucus. This mucus is usually white in color, but green mucus is also present. Diarrhea mucus can also be green because dogs eat green foods. It can also be caused by bacteria.
3. Passage of red mucus with stool: If a dog has diarrhea mucus, the mucus that comes out of the stool can often be red in color. Sometimes eating red food can cause a red color, but usually, this can lead to blood coming out of the mucus, which can be caused by injury to the blood vessels in the dog's intestines. But this is a bad sign for the dog's health.
4. Frequent stools: Diarrhea in dogs is caused by mucus in normal diarrhea. If the resulting diarrhea is mucous, your dog will pass stools more frequently and they will be soft and thin.
5. Weight loss: If the dog's diarrhea is mucous, the dog will suddenly become weak and lose weight. Dog food will be unappetizing. Sharil will feel tired. The dog's health will dry up.
6. Foul-smelling stools: If your dog has diarrhea mucous, you will notice a strong smell from his stool. A dog's stool usually has a strong odor.
7. Abdominal pain: Dogs with diarrhea will have severe abdominal pain with mucus. This can make the dog bark and scratch its belly. Stomach pain can make a dog very weak.
8. Fever: A dog with diarrhea may have a very high body temperature. It is normal for a dog to have a fever if the diarrhea is mucous.
Causes of mucus in your dog's stool.
Mucus in the stool of your dogs is a common disease. Dogs with mucous diarrhea have mucus in their stools that look like a white sticky liquid that looks like jelly. It is often green and red in color and can cause serious damage to dogs.
Diarrhea mucus in dogs can be caused by many reasons. Some common reasons are:
1. Defects in food: If your dog eats food mixed with garbage from the dustbin or on the ground, your dog's digestive system can become disturbed and develop a stomach ache, called colitis. This can lead to mucus in the stool and diarrhea and vomiting.
This diarrhea mucus problem in dogs usually resolves itself within a few days. But if it persists, it will cause harm to your dog. Take your dog to a vet in such a situation.
Also, if your dog has a food allergy, your dog may still have diarrhea mucous.
2. Parasitic Infections: Another cause of mucous diarrhea in dogs is intestinal parasitic infections. Dogs often have mucus-filled diarrhea, usually caused by roundworms or whipworms.
Also, infections with Giardia and Cryptosporidium, a single-celled organism, can also cause mucous diarrhea in dogs.
3. Bacterial Infection: Another cause of mucous diarrhea in dogs is a bacterial infection. Eating spoiled food and raw meat can also cause "food poisoning" in dogs. Two common bacteria that cause enteritis in dogs are Salmonella and E. coli, these two types of bacteria can also cause diarrhea, vomiting, diarrheal mucus, and bloody mucus in dogs. Which can make your dog very sick.
4. Irritable bowel disease: In many cases, Dogs suffer from many of the same diseases as humans. Irritable bowel disease is one of them. Irritable bowel disease is also called IBD. A dog's digestive system can have hypersensitivity that is exacerbated by food problems. Dogs with IBD produce a lot of diarrheal mucus in their stools. Dogs with this disease have diarrhea, weight loss, excessive itching, and loss of appetite.
5. Stress: Another cause of micturition in dogs is stress. Dogs, like humans, suffer from various ailments as a result of stress, one of which is mucous diarrhea. Some dogs cannot tolerate sudden changes in the environment around us. Causes of stress in dogs include a sudden move to a new environment, moving house, absence of a close family member, change in feeding routine, being alone at home, etc. In this case, relieving the stress will also cure diarrhea.
6. Dietary changes: If you make sudden Dietary changes to your dog, the dog's digestive upset and reaction may occur because the dog is not used to the new food. As a result, mucus is released with the dog's feces. If you want to change your dog's diet, add the new food to the regular diet little by little and eliminate the old food, this way your dog will get used to the new food. This is how you can change your dog's food.
What you should do for Diarrhea mucus in your dog
If your dog has diarrhea, there are some things you should know.
If your dog has diarrhea, he needs to be taken outside immediately.
You should try to determine what caused his diarrhea.
You should take him to the vet right away.
You should keep him hydrated and feed him foods that are high in fiber (Check out lists of natural foods that can help keep your pup hydrated).
Clean his stool and bathe him regularly.
You should use a special shampoo for dogs with diarrhea.
You should change his bedding frequently.
Wash your hands before handling your dog.
Avoid giving your dog table scraps.
Supervise your dog while he eats.
You should never let your dog lick his own feces off the ground and never allow your dog to defecate in the house.
Don't leave your dog alone for long periods of time.
Don't put anything other than water into your dog's mouth.
Never give your dog medicine without first consulting your veterinarian.
You should never force your dog to vomit and don't give aspirin to your dog.
Never give any medication to your dog unless prescribed by a veterinarian.
Best food that help your dog in Diarrhea
Diarrhea mucus treatment.
If you see mucus in your dog's stool and if it is regular, contact a veterinarian immediately. The vet will conduct various tests and treat your dog.
Treatment of mucous diarrhea in dogs depends on the underlying cause. In some cases, it clears up on its own, such as diarrhea caused by stress or a change in diet. In some cases, it is chronic, such as diarrheal mucus caused by a parasitic or bacterial infection.
If your dog has diarrhea, you should feed him small amounts of water frequently. Do not let him drink too much at one time. Make sure he drinks plenty of water before bedtime. If he does not get enough water, he could become dehydrated. Dehydration can cause serious health problems such as kidney failure. Keep him from eating anything other than liquids until he recovers.
In this case, the vet will ask for a sample of your dog's stool for testing. This sample must be fresh and must reach the veterinarian within a few hours of the dog passing the stool.
A stool examination under a microscope will screen for intestinal parasites, if these tests are negative, and there is no indication of dietary problems or stress, a more chronic cause will be sought. More rigorous testing may be needed to diagnose allergies and IBD.
All these tests should confirm whether it is fat or mucus. Because eating too much fat can sometimes lead to the formation of a fatty substance in the stool that looks like mucus. This can be due to gallbladder, or pancreas problems.
The vet will ask some questions about your dog so that he can understand the signs and causes of the dog's problem and treat it properly.
Diarrhea caused by parasitic or bacterial infections should be treated with anthelmintic drugs or antibiotics. In many cases, probiotics and special diets may be needed to calm the dog's digestive system. Steroids are needed if bowel inflammation is more severe. The vet may recommend adding extra fiber to your dog's diet.
Basically, After all the tests, the vet will give your dog diarrhea mucus treatment.