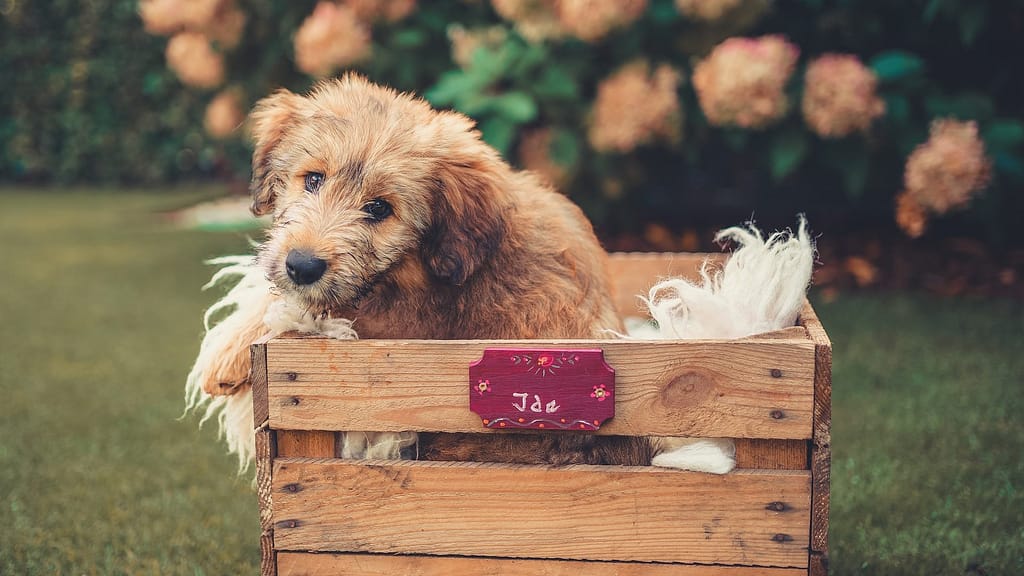 Have you ever wanted to build your own custom dog crates? It's easier than you might think! With a few basic supplies, some creativity, and a bit of patience, you can create a custom dog crate that is both functional and stylish. In this guide, we'll show you how, step by step!
Table of Contents
Dogs need to be created to keep the dog safe, for comfortable rest and for occasional trips, and many times when the dog is left alone at home. Again, even if the dog is sick, sometimes the vet advises him to rest in the crate.
These crates come in a variety of types, qualities, and designs. There are some of these crates that enhance the beauty of your home. You can keep these crates like furniture. However, such crates are very expensive in the market.
Looking for a dog crate that looks like furniture? We've got you covered! Our article covers the Different types of dog crates that resemble furniture, so check it out if you're interested.
Sometimes you may not get the crate as per your wish or preference. So today we will learn how to make a crate at home. If you are staying at home, you can easily make your own crate for your dog according to your wishes and preferences at a low cost
Does your dog need a custom crate?
The dog needs a custom crate because it is specially made depending on the needs of the dog and your preferences. A custom crate is better for your dog's comfort than any crate on the market. Standard crates may not meet all your dog's needs and your choice is also a question. Market crates are usually not specially made.  A custom crate is made according to your preferences and the needs of the dog, so it can be designed according to the needs of the dog, comfortable flooring, the right height, and width, toys that the dog likes, and your preferences.
A custom crate is not a luxury, it is a necessity for dogs and helps with training. By using a crate, your dog can reduce bad behavior and get better habits, training, and a nice relaxing rest. As a result, the dog is in a good mood and if the mood is good, what you teach him, your dog will learn.
Before building a custom crate you need to know your dog, his preferences, and habits well. When building the crate, the size and shape of the crate should be suitable for the dog. A separate shelf system should be created for toys and food containers. If your dog is tall, the crate should be designed with his height in mind. The crate should have enough space to hold the necessary equipment. Better to have a crate pad inside the crate.
For these needs, it is important to use custom crates rather than market-made crates. A custom crate is very useful for dogs because it is designed specifically for a specific dog.
Can you build your own dog crate?
If you need a crate for your dog and you want to make a crate that is beautiful and suitable for your dog, you can do it yourself. It is better to make it yourself than to buy it from the market. If you have free time, you can easily make a crate for your dog.
You can customize it according to your dog's preferences and needs and save you some money too. You can make crates using different materials like wooden planks, chain links, nails etc. However, before buying these materials, you need to decide what kind of crate you will make and what size it will be.
The size of your dog's crate should be determined by the size of your dog. The crate should be made in such a way that your dog has enough space to stand, move around and sleep comfortably in the crate.
However, it is best to visit a dog crate store to check the size of the crate. This will give you a good idea for making the crate. And you can easily build a crate for your dog.
What is the best material for a dog crate?
Dog crates are generally made of four materials. These four materials are: wood, plastic, metal and fabric.
Wood: Wood is generally used to make beautiful and attractive crates. Wooden crates enhance the beauty of your home and you can make them as furniture.
However, wooden crates are a bit difficult to clean and smell more. Also, if your dog is a super chewer, your crate will wear out quickly and may even harm the dog.
Plastic: Plastic crates are commonly available in the market. These crates are also easy to carry and clean. Generally these crates are used during travel and relocation.
Metal: Metal crates are very durable. But these crates are not that attractive. Metal crates are easy to clean and easy to carry.
Fabric: The fabrics are lightweight. These crates are more suitable for dog comfort. Fabric crates are easy to move, lift and store. However, the problem with fabric crates is that they are difficult to clean and can damage the crate if the dog barks loudly.
Above all, if you want to build a custom dog crate yourself, it is better for you to make a wooden crate. Because in this case wood is easily and cheaply obtained from other materials, it is also easy to cut and join. And wooden crates will enhance the beauty of your home. Moreover, you can easily make your own wooden crate for your dog.
How to make a dog crate by yourself?
If you want to build a crate for your dog yourself, you will need crate building materials such as wood, steel chain, nails, etc. But before building the crate, you need to have an idea about the size of the crate. After that, if you continue to work step by step, you will be able to build a beautiful and attractive crate.
Here is step by step technique for making crates:
Step 1: To build a custom dog crate the first thing you need to do is measure your dog's size. Because the purpose of custom crate building is to make the crate the ideal crate for your dog. So measure the size of the dog and make the crate accordingly. Measure the length from the tip of your dog's nose to the tail and measure the dog's height.
Step 2: Measure the size of the dog and determine the size of the crate accordingly. The crate should have enough space for your dog to stand, sit and rest. For example, if your dog's nose to tail length is 2.5 feet and height is 1 foot, your crate should be 3.5 feet long, 2 feet high, and 3 feet wide. Moreover, you can make it smaller or larger according to your dog's convenience.
Step 3: Choosing the right material for a dog crate is essential. Generally, wooden planks, steel chain links, etc. are used to make crates. These types of components are easily available at hardware stores for cheap. You can select such elements.
Step 4: To build your wooden crate you will first need wood planks. So choose a good and durable wood, in this case you can choose pine wood. It is a very durable and cheap wood.
Crate construction also requires a tape measure, nails, hinges, saws and hammers. You can also buy metal doors and install them as crate doors.
Step 5: Cut the wooden planks to size with a saw, then make the bottom and top of the crate, in this case the top and bottom of the crate are the same size. You can draw a line with a pencil at the measurement point while cutting. It makes cutting wood with a saw easy and accurate.
Step 6: Now make the two sides and the back. For this, cut the desired size of wood. The two sides of the crate are usually the same size, so cut the wood on both sides to size and line it up with the bottom, then nail it down. Align the back timbers this way and nail them side by side.
Step 7:  A door must be attached to one side of the crate. It can also be a metal door but it must be hinged. These hinges are attached with simple screws or nails, so be sure to file the tips of the screws or nails. If you don't have a file, use a hammer to hammer the nail. Now put a latch on the other side of the door and close the door properly.
Additional steps
1. Add the right safety features
When creating your custom dog crate, safety is the top priority. Make sure to select the right materials that are sturdy enough to not break or bend easily. Also, choose a crate design with no sharp edges that could injure your pup. Additionally, reinforce all corner joints with screws rather than nails or glue for extra strength and stability. Finally, make sure your pup can't escape by adding a secure door latch that won't accidentally open or collapse inward while they're inside.
2. Consider custom additions
To make your new crate even more special, you can always add a few extra touches. Customizing the design is an easy and fun way to make the crate your own! Consider adding some textured flooring or cushioning material like mats or pillows. Paint on an inspirational quote or design feature to personalize it further. Lastly, get creative with functional storage accessories and toys for your pup's enjoyment!
3. Account for pet preferences
An important part of crate-building is taking note of any preferences or needs your pup may have. For example, a shy pup may prefer a more secluded space while an energetic pup would likely enjoy a bit more openness. Consider adding features like hiding spots, sturdy cushioning material, and plenty of escape options to ensure your pup has the most comfortable living area possible. Before you get started on the design process, it's also important to remember that all pets are different in terms of size, so make sure to properly measure the crate before getting started.
Custom dog crate furniture
Dog crates should look like furniture. You don't want your dog's crate to look like a prison that looks like you're abusing your dog.
Moreover, a crate like a cage spoils the beauty of your home and makes the room look messy.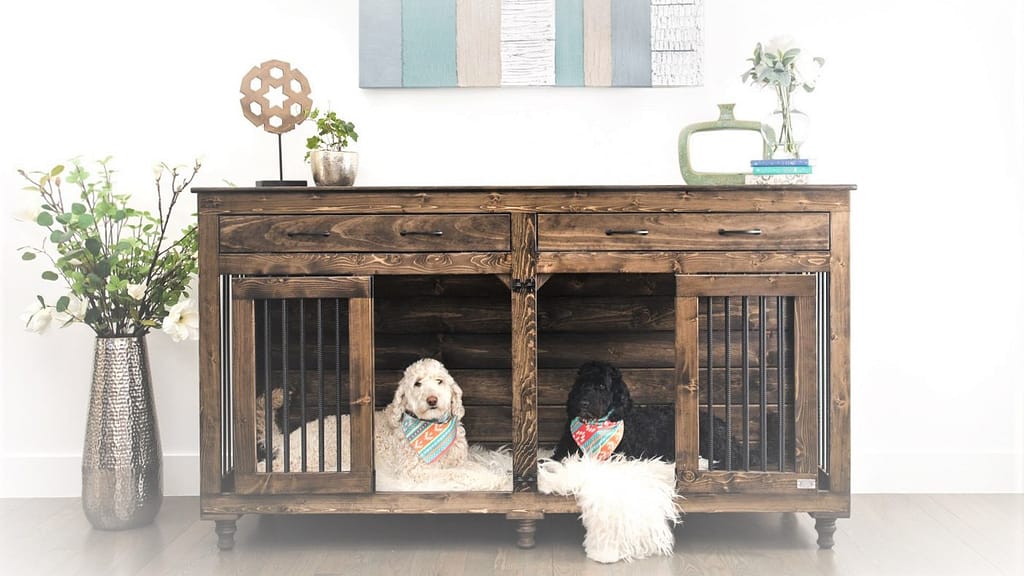 The beautiful and furniture-like crates available in the market are very expensive. However, if you don't want to spend that much money and have some free time, you can make a custom furniture-like crate at home. You can enhance the beauty of your home by designing it in your own way. Moreover, you also know about your dog's preferences, so when you make your dog crate, your dog will love it. You can also add cute dog toys to the crate that your dog will love.
Looking for a stylish way to house your beloved pup? Dog crate furniture may just be the solution! With a variety of designs, owners can create stylish enclosures that will fit seamlessly into any home décor. From open-air wooden crates to enclosed metal ones – the options are endless. checkout our guide on different type of dog crate furniture!
Custom dog crate for cars
While traveling in the car your dog may move or jump which can lead to an accident, so it is best to keep the dog in a crate during the trip. Dog crates are made for carriages during travel. Where your dog can rest and stay safe while traveling.
Crates used for transporting dogs in cars are small in size and have handles on top.
If you want to make a dog crate for the car so that the dog travels in the car, you need to make the crate smaller so that it takes up less space in the car. Moreover, it should be easy to carry. It is usually better if it is like a kennel. Since custom dog crates are built by you, you can build the crate according to your convenience and preferences.
Custom dog crate for a van
If you want to make a dog crate for your van, this will be a good decision. Keeping your dog safe while traveling is important. Keeping the dog crate in the van will stop the dog from moving and jumping which will prevent accidents.
This is why dog crates are made for vans when traveling. Where your dog can rest and stay safe while traveling.
While making the crate for the van care should be taken that the crate is not too heavy so that the crate can be easily loaded and unloaded from the van. Additionally, crates need adequate light and air circulation. Since this is a travel crate, it only needs to be made with the dog's comfort and safety in mind. Crates for travel vans usually don't look good but will work.
Choosing the right crate for your dog
Looking for the perfect home for your pup? Choosing a dog crate can be daunting, but we're here to help you make the best decision. There are a few key considerations to bear in mind when selecting your pup's new abode: size and weight limits, durability, portability, security features, convenience features, and ease of assembly. Read our guide on how to choose the right dog crate and pick out the ideal one for your four-legged companion!
Conclusions
Creating a custom dog crate can be a fun and rewarding way to give your pup the perfect place to relax, as well as a great opportunity to exercise your creative side. Whether you're looking for a shady hideaway or something that provides plenty of light and ventilation, by considering your pet's needs, taking proper measurements and safety precautions, you'll be able to craft an ideally suited living space for your furry friend in no time.
So if you want to build a custom van crate, you can easily do it yourself.