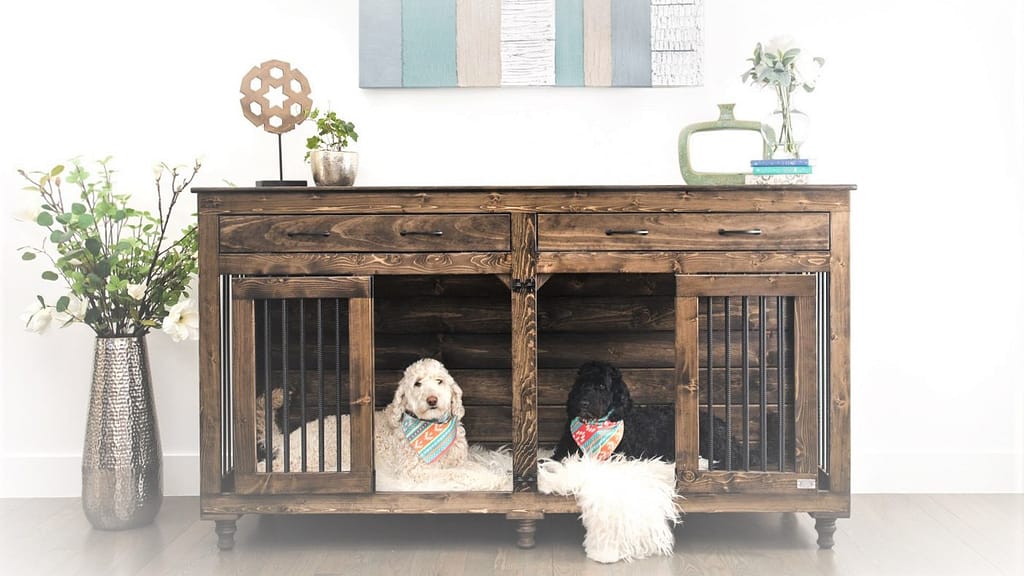 The safety of your beloved dog is essential to you. Many times when you are away from home you think about your dog. Your dog may destroy your expensive furniture in your absence. Moreover, many times carelessness can harm oneself. Again while traveling, he may get scared in new places, and jump around. When guests arrive at the house, the dog may bark excitedly at the new person, which may cause irritation.
All these reasons require a crate for your dog. You can keep the dog in the crate when you are busy. No need to worry about dogs when you're out and about.
Table of Contents
How to choose dog crates?
When it comes to choosing a crate for your dog, there are several factors to consider. Start by measuring your dog and looking for a crate that is the right size – one that is big enough for your pup to stand up and move around, but not too big where they can use one side as a toilet. Next, consider the material of the crate – plastic can be easier to clean and more durable than mesh or soft-sided crates. Finally, think about where you'll put the crate and if portability is something you need to keep in mind. We have another article that help you to choose the correct crate for your dog.
But this crate needs to be made into furniture. Because an ordinary wire crate looks like an animal cage, your dog will not take it easy. It must be hidden somewhere in the room because its presence in your house spoils the beauty of the house. Again, if a guest comes to your house and sees your dog's cage, you may feel ashamed. People may think you are abusing your dog by putting him in a crate.
On the other hand, a nice crate allows your dog to adapt easily. If the crate has enough space for the dog, comfort, nice decorations, and some furniture, your dog will easily accept the crate as his living space. You can place the crate nicely in your drawing room, you don't need to hide it. Moreover, it will enhance the beauty of your room.
Dog crate types
So today we will discuss how to make a Dog crates look like furniture. You can decorate your dog's crate in any way you like. Some methods are discussed here. 
1. Table crate
If your dog's crate space is small, you can make a nice table crate for your dog. This can be a fantastic way for small spaces to enhance the beauty of your home. You can design a DIY table in such a way that the bottom of it completely covers your dog's crate. You can decorate this table with some furniture on top of the table. And can make comfortable arrangements for the dog below. You can neatly cover the wires around the crate with the cafe curtain of the table and leave only the door partially open.
This way you can easily transform your dog crate into a table crate that will add to the beauty of your home.
2. Furnish the crate with a sleeper cover
Slipcovers are another way to make a dog crate look like furniture. In addition, many times vets recommend covering the dog's crate to improve the dog's health problems.
So you can enhance the beauty of your home by covering your dog crate beautifully with Slipcover. You sew a slipcover that can slide over your dog's crate. You can also add a wooden shelf to make it look like a table. You can increase its beauty by placing different types of furniture on the shelf.
And you can give soft cloth for the comfort of the dog. Make the sleeper so that when the crate door is closed, part of the cover slides over the door via hook-and-loop tabs.
This way you can easily turn the dog crate into furniture with a slipper cover.
3. Island Crate
There are some breeds of dogs that grow in size. Those dogs need more space, so their crates are bigger. You can build Iceland crates to decorate the big crate beautifully which will enhance the beauty of your room.
You will create furniture like a four-legged table with four open sides, and shelves on top. Set the dog crate to size in the center of this four-legged table. You can also place your necessary papers or furniture on top of the Iceland crate.
4. Farmhouse crate
You can easily make a dog crate look like a farmhouse. While it adds to the beauty of your home, your beloved dog will also love the crate.
Make your home's cabinets or countertops into dog crates and decorate the front with a painted keyboard. Choose a beautiful lattice door as its door. And give your dog a rest with comfortable indoor-outdoor cushions inside.
5. Cabinet crate
You can easily build a cabinet crate for your dog with little money. Which will enhance the decor of your kitchen or laundry room.
Choose a cabinet with adequate ventilation. Cut out a shelf in your kitchen or laundry room cabinet and make a dog crate out of it. You can decorate curtains on it which will look attractive. This is how you can prepare the cabinet crate.
6. Sitting bench crate
You can easily convert a sitting bench into a dog crate. It will enhance the beauty of your room in addition to seating.
You will plant wood around a bench, but there will be small gaps that allow light and air to enter. Create another beautiful door. In between, add soft clothing for the dog's comfort. It will easily serve as a dog crate and bench that will enhance the beauty of your home.
You can use your creativity to design the dog crate as furniture as you wish. In this, you can add wooden stairs for added beauty which will look more beautiful. You can put lamps on it, and decorate the crate with different kinds of cute toys. You can add lighting that will make your dog's crate more attractive.
Looking for a custom dog crate for your canine? We've got you covered! Our article covers the How to make a Custom Dog Crates?, so check it out if you're interested.
Conclusion
Above all, you can easily change the size and shape of the crate as you wish and design it as a piece of furniture that will look great and enhance the beauty of your home and your dog will love the crate too.