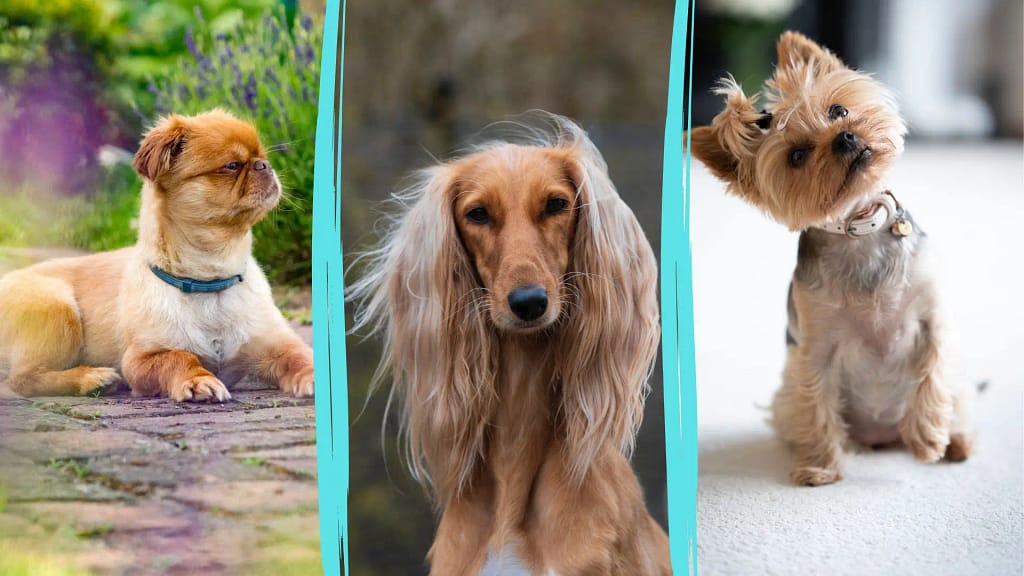 Dog breeds with long hair can look very classy and elegant, and their coats often come in a variety of rich colors and unique patterns. They require more grooming than dogs with short hair, but the end result is worth it for many owners.
Popular long haired dog breeds include the Poodle, Maltese, Shih Tzu, Lhasa Apso, Bichon Frise, Cocker Spaniel, Yorkshire Terrier, Afghan Hound and others.
Many dog breeds with long hair offer low maintenance when it comes to grooming. Those breeds can have wavy or curly locks that make them look like show dogs without any extra effort on their owners' part. Additionally, these breeds are popular for their soft and cuddly coats, making them especially desirable for pet owners who adore the feeling of running their hands through a pup's fur.
Dog breeds with long hair require extra care and grooming, but they can also make great pets. Consider the activity level of each breed to make sure it suits your lifestyle before bringing one home.
There are many beautiful dog breeds that boast long coats of luxurious fur! Some of the best medium to large-sized breeds with long hair include Afghan Hounds, Shih Tzus, Old English Sheepdogs, and German Shepherds. Meanwhile, smaller breeds like Yorkshire Terriers and Chihuahuas also have longer than average coats. Whatever size pup you're looking for, there is sure to be a perfect one with a wonderful coat of luscious fur!
Grooming Tips for Long-Coated Dog Breeds
Groom your long-coated dog regularly to maintain its fur and keep it looking healthy.
Brush their coat at least once a week, using a comb or slicker brush designed especially for long-haired dogs.
Trim any mats or knots that form in the fur. Bathe your dog every two months and use a high-quality, mild shampoo that won't dry out their skin.
Use scissors or grooming shears to trim away stray hairs and give the fur around the face and feet a neat look.
When grooming a long-haired breed, it is important to brush them daily to avoid tangles and mats.
Start with a wide-toothed comb and slowly work your way through the coat, brushing at least two inches of hair at a time.
After brushing, use a slicker brush to remove dead hairs and give the coat a silky sheen.
Finally, use scissors or shears to trim excess hair in areas like the legs and tail.
Trimming Tips for Loving Your Long-haired Dog
When it comes to maintaining a long-haired dog, regular trimming and brushing are key. Dogs with long coats need routine grooming to keep their fur neat, healthy and free from mats and tangles. This can be done at home or by a professional groomer. With the proper care, you can keep your pup looking their best while still enjoying their luscious locks!
---
Whether you're looking for a formal show dog or just a cute companion, there are plenty of options. We've put together this comprehensive list of the 28 most common long-haired breeds that may be just what you're looking for! From the iconic Afghan Hound to the striking Havanese, we hope our list helps you find your perfect furry friend.